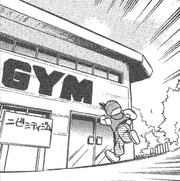 Pewter Gym
(ニビシティジム; Nibi City Gym) is the official gym of
Pewter City
.
Overview
Edit
Pewter Gym first appears in VS Onix where Red shows up to take the gym leader challenge. After battling through various trainers, he finally wins against Brock and obtains the Boulder Badge. Though not shown, Green also obtains the badge.
Though the outside of the gym is the standard gym layout, the inside takes on the appearance of a typical boxing ring, referee included. Spectators crowd around the ring, and there's a special room with a window for Brock to watch ongoing fights.
Major Events
Edit
Green defeats Brock and obtains the Boulder Badge. (Not shown)
Appearances
Edit
Ad blocker interference detected!
Wikia is a free-to-use site that makes money from advertising. We have a modified experience for viewers using ad blockers

Wikia is not accessible if you've made further modifications. Remove the custom ad blocker rule(s) and the page will load as expected.